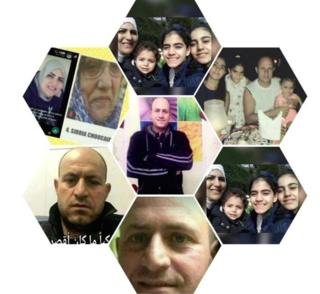 Families of those killed in the Grenfell Tower fire left an inquiry in tears after a video of the blaze was shown without a warning.
One person was said to have collapsed outside the hearing after seeing the video, which included footage filmed from inside the burning building.
An inquiry official apologised, saying a warning system had failed.
The second day has been dedicated to commemorations of those killed, including six members of one family.
A video about the Choucair family started with clips of the fire in which people could be seen at windows surrounded by flames and screams could be heard.
Between 20 and 30 people left the room, many in tears and covering their faces, and wails could be heard outside.
The inquiry at the Millennium Gloucester Hotel, South Kensington, paused while the person who collapsed received medical treatment.
Bernard Richmond QC, who is leading the presentations by bereaved family members, said he was sorry a warning had not been read out before the film was shown.
He said it had been a busy day and a system the inquiry had put in place for warning of troubling material had failed before this particular video was shown.
When it resumed, the family of 57-year-old Hesham Rahman, who lived on the 23rd floor, paid tribute to him and said "those in power" must "listen to our stories and learn from your mistakes."
His nephew, Karim Mussilhy, earned a standing ovation from other relatives in the room when he told the inquiry: "We've been censored enough, it's our time; whether you like it or not you have to listen."
He said on a previous visit to his uncle the lift had been broken and the single staircase was narrow.
He said: "I couldn't help but think how on earth would my uncle escape if there was a fire."
---
At the inquiry: Extreme distress heard
By BBC reporter Emma Harrison
A graphic image of Grenfell Tower on fire and people at the windows of the building in one of the commemoration films took people by surprise.
It was traumatic for lots of people to see the image on a big screen without warning.
Groups of people – about 30 people or so – walked out of the room in tears as the film was playing.
Some were in extreme states of distress. Wailing could be heard outside the room.
The film was stopped, the room was told, for a medical emergency. Somebody had collapsed outside.
Counsellors that were on hand in the room offered assistance to people.
Bernard Richmond told the room he was "truly sorry" for the lack of warning.
---
Hisam Choucair, who lost his mother, sister, brother-in-law and three nieces in the blaze on 14 June 2017, had earlier told the inquiry how he could only watch helplessly as they died.
They were among 12 of the 72 victims to be commemorated on the second day of the inquiry.
Mr Choucair said the deaths of his mother Sirria, 60, sister Nadia, 30, her husband Bassem Choukair, 40, and their daughters Mierna, 13, Fatima, 11, and three-year-old Zainab was an "atrocity".
He said he had "always had a bad feeling" about the building.
He said his brother called him at about 02:20 BST on 14 June to tell him the block near his home was ablaze.
He said he found the building "completely engulfed in flames" and simply had to "stand there for hours watching them all burn to death".
Mr Choucair said his mother, who arrived from Lebanon as a teenager in the 1970s, was "loving, kind and patient" while his sister and her husband, who lived two doors away from her in the block, were very popular and hard-working.
He said his eldest niece, Mierna, had an "excellent sense of humour", loved sport, music and school and wanted to be either a doctor or a lawyer.
His sister Sawsam, who lived with their mother in the tower, also spoke of her grief.
She said she managed to speak to Bassem on the phone during the fire, adding: "His first thoughts were to reassure me.
"He told me everything was alright, even though he was trapped with my family in a burning building."
The second day of the inquiry also heard from the husband of Maria Del Pilar Burton, who is regarded as the final of the 72 victims.
Mrs Burton, 74, who had dementia, died in January after her health deteriorated following the fire.
In an emotional tribute, Nicholas Burton said it took away her "dignity and everything we had in this world".
Mrs Burton, known as Pily, was born in Spain in the 1940s and was one was one of the very first residents in Grenfell Tower.
Mr Burton, who was with his wife for 34 years, told the inquiry she was an "extraordinary woman".
"I loved my wife and I was in awe of her," he said.
He said the fire had a "terrible effect" on Pily, who had been diagnosed with dementia in 2015, and made her very distressed.
He said: "How do you explain what had happened to a person in her condition? That our house had gone, that our dog had gone, our good friends and neighbours may have passed?"
Mr Burton had to have life-saving surgery in the wake of the fire due to an enlarged heart. His wife's condition had worsened by the time he emerged and she suffered a stroke in January. She never recovered and died on 29 January.
He said: "She was a unique, beautiful, exceptional person until this tragedy had taken it away."
Also commemorated were Rania Ibrahim and her two young daughters, who lived on the 23rd floor of the building.
The 30-year-old who died alongside daughters Fathia, five, and Hania, three, "loved life", her sister Rasha said.
Rasha Ibrahim said her sister moved to the UK from Egypt in 2009 but the pair remained very close.
In a statement read to the inquiry by an interpreter, Mrs Ibrahim said: "It is so important for me to understand how I have lost my beloved sister and my children have lost their beloved cousins."
She also said she still hears Rania Ibrahim's voice and said her sister had been "happiness walking on earth".
Her niece Fathia, known as Fou-Fou, had a "very strong personality", the inquiry was told.
Relatives of all 72 victims will be given the chance to commemorate loved ones during the inquiry.
The inquiry will look into all the deaths of the June 2017 fire.
A tribute to Debbie Lamprell, a 45-year-old safety officer at Opera Holland Park, from her mother was read by one of her former colleagues, Michael Volpe.
Miriam Lamprell said: "When I think of Debbie, I think of her laughing. She was always laughing."
She said her daughter was happy and "did not want more, she felt blessed".
The night of the fire, she said Debbie had messaged her to say she had got home. "I thought that's OK, she's safe. I went to bed and got up in the morning and I didn't have a daughter.
"I am bereft without her. If she had died a normal death I would have been able to hold her and say goodbye.
"I feel a part of me has been ripped out. Nothing since has been worth it any more."
The inquiry was played a video of her memorial at Opera Holland Park, where friends and fellow staff paid tribute and then sang Amazing Grace.
Families are being given as long as they need to tell the inquiry about their loved ones through a mixture of words, pictures and videos.
A minute's silence was held at the start of the afternoon session to respect the anniversary of the Manchester terrorist attack.
with thanks BBC